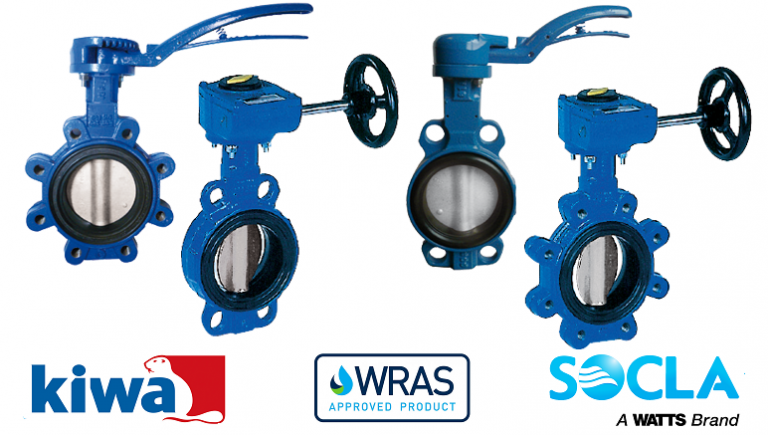 LK Valves & Controls Ltd are pleased to announce they have recently been appointed a key partner for Watts Industries and a major stockist and distributor of their Socla Sylax range of WRAS approved butterfly valves and associated products.
Initially, substantial quantities of the Socla Sylax range of WRAS and KIWA approved butterfly valves have been placed into stock at LK's purpose built UK warehouse in Liverpool. Both wafer and fully lugged pattern Sylax butterfly valves are available for immediate despatch, with 316 Stainless Steel disc and either WRAS / KIWA Approved EPDM liner or with NBR Liner. In sizes DN50 to DN300.
In addition to the Sylax range, LK have also secured preferential terms on other Socla products. This will allow the company to move further into the utilities markets and other sectors, with the long term goal to stock and distribute other complimentary products within the Watts / Socla range including;
Backflow Preventers
Anti-Pollution Backflow Prevention Check Valves
Pressure Reducing Valves
Control Valves
Air Valves
Colin Evans, co-owner and director of LK Valves & Controls said "The Socla brand is synonymous with quality and complements existing products within our product portfolio".
He added, "Having access to this product range with preferential terms and ex-stock availability, together with our experience and focus on stocking and distribution and the efficiency of the service we provide, will be a winning combination to the mutual benefit of both companies".
The Socla Sylax butterfly valve has some unique engineering features. Performance and reliability is greatly improved as the valve has a spline driven one piece shaft design which increases the contact area between shaft and disc giving better torque transmission characteristics. It also ensures no backlash giving greater reliability and longevity.
The spline driven shaft design negates the need to pin the disc to the shaft, where the pin passes through both sides of the disc and the shaft and is exposed to the flow of the media. Many manufacturers continue to use a pin connect system, however, depending upon the material used, it can create stress hot spots leading to corrosion, leakage paths, and in the worst case, failure of the connection.
The Sylax valve also has a machined spherical floating disc that will self-centre to prevent stress on the inner liner during operation, thus maximising the service life of the liner. The unique disc, together with the specifically designed 'dovetail' liner and the secondary o-ring sealing, gives perfect tightness.
Built-in safety features include an anti-ejection circlip which prevent the ejection of the stem to support best health and safety practice whilst also allowing easy access for maintenance.
All Socla Sylax butterfly valves are supplied with a 5-year manufacturer's warranty as standard.
For more information, ex-stock and short lead time supply, please contact one of LK Valves & Controls experienced team.
Click HERE to view a video highlighting the quality and features of the Socla Sylax range of butterfly valves.
Click HERE to view and download the WRAS approval certificate for the Socla Sylax butterfly valve range.