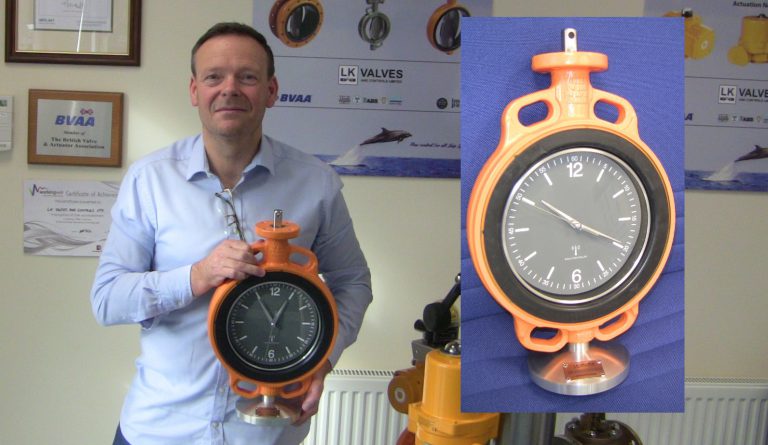 Director Colin Evans takes delivery of a custom made clock to celebrate 15 years trading. The clock face is mounted within a DN200 Wouter Witzel EVBS semi-lugged butterfly valve, finished in Wouter Witzel's trademark orange epoxy coating. It now stands pride of place in reception at LK Valves & Controls, Liverpool.
In 2021 LK Valves & Controls celebrates 15 years as the appointed UK stockist and distributor for Wouter Witzel Eurovalve marine butterfly and check valves.
Wouter Witzel are a company with a wealth of expertise accumulated from over 50 years of manufacturing butterfly valves. In fact, it was Mr Wouter Witzel himself who designed the first vulcanized butterfly valve forming his company in 1966.
The now well established Dutch firm has been an international leader in their field for many years, developing and producing a wide range of high quality butterfly valves and accessories at their purpose built factory in the Netherlands.
Today their range is extended to include Classification Society Type Approved high performance double eccentric fire-safe certified butterfly valves in carbon steel, stainless steel and aluminium bronze. Their drive for innovation and dedication to their product has made their butterfly valves synonymous with high quality and lasting performance, reducing operational costs, down-time and maintenance expenses to an absolute minimum.
Colin Evans LK Valves & Controls company director said 'Over that last 15 years we have built up an excellent knowledge of the Wouter Witzel product range and their state-of-the-art manufacturing techniques. Our staff have developed many close relationships with the very knowledgeable and highly professional people at Wouter Witzel, all to the mutual benefit of both companies and our customers. May it long continue.".
LK Valves & Controls currently hold stock in excess of £100k of Wouter Wiztel vulcanized butterfly valves and check valves held at their premises in Liverpool to service the UK's ship repair and ship building markets. Valves are stocked in various materials to suit all ship systems. The stock held at Liverpool includes wafer, semi-lugged, fully lugged and double flanged vulcanised butterfly valves as well as the Wouter Witzel ECV dual plate check valve. All with 3.1 certification and all with Type Approvals from the five major Classification Societies.
For more information, ex-stock and short lead time supply of Wouter Witzel butterfly and check valves in the UK, please contact one of LK Valves & Controls experienced team.