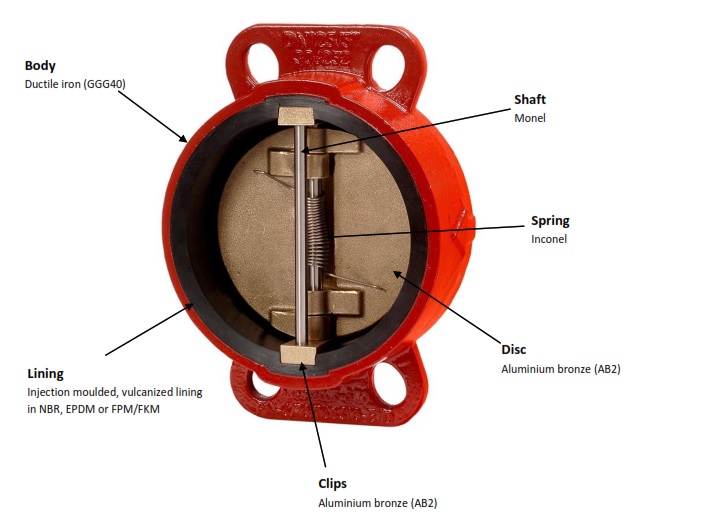 In 2012 LK introduced their dual plate check valve. Fully internally lined with an injection moulded vulcanized rubber, it features duo-discs in aluminum bronze with internal parts in Inconel and Monel. Materials giving it a high resistance to corrosion.
LK Valves AB are directly involved in the design, development and production of their dual check valve. A high quality, marine grade, rubber compound is used, and this, together with the high demands set for cleanliness in their injection moulding process, ensures excellent bonding strength and durability for the vulcanised rubber, crucial to ensure long service life. The combination of high quality materials and superior design at reasonable price has made this valve very popular among customers, especially within the Cruise Ship sector.
The valve is available from stock with an NBR vulcanised liner (LK Figure: 300702) excellent for use on sea water cooling and ballast systems, freshwater applications and for oils such as fuel oil, lube oil, cargo oil and hydraulic oil. Also available with an EPDM vulcanised liner (LK Figure: 301702). Both variants are available in sizes DN40 to DN350. Larger sizes (D400 to DN600) have been designated 300701 with NBR liner and 301701 with EPDM liner.
Every size of valve has been designed to mount between multiple flanges including; PN6, PN10, PN16, JIS-5K, JIS-10K and ANSI-150. The valve can be installed in a horizontal or vertical pipelines (upward flow only). Click HERE for installation and operation manual.
For more information, ex-stock and short lead time supply, please contact one of LK Valves & Controls experienced team.