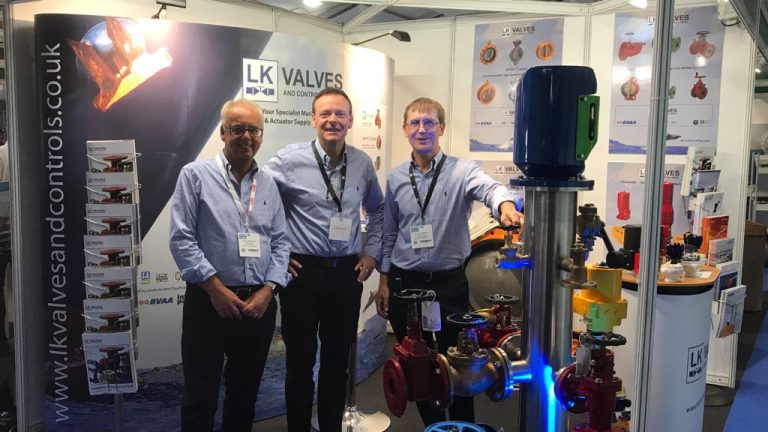 LK Valves & Controls Ltd was formed in June 2005 between three friends and colleagues; Alan Forrester, Colin Evans and Alan Wareing, and this summer celebrates 15 years trading.
The company set out to provide easy access to high quality industrial and marine valves and ancillary equipment and to provide unsurpassed service that together delivered premium value to its customers. In the early days, it was just Alan, Colin and Alan in a small start-up unit, all working around the clock to make their fledgling company a success.
From the onset the three owner/directors made a commitment to reinvest 25 percent of all profits back into the company. This decision contributed to rapid growth, with the business achieving £2.2m in sales in only their 4th financial year and enabled the firm to move to larger premises and both increase their stock range and maintaining higher stock levels.
Initially the company's core product group was developed and manufactured by their principal supply partner LK Valves AB, Sweden. But as a result of its growing reputation, LK Valves & Controls soon caught the eye of two of the world's leading valve manufacturers and signed exclusive stocking and distribution agreements with Winel BV, market leaders and manufacturers of tank vent check valves, marine doors and hatches, and with Wouter Witzel BV, manufacturers, for over 50 years, of high quality vulcanised rubber lined butterfly valves and high performance butterfly valves.
In 2014, the directors took the bold decision to invest an initial £100k+ on stock of Japanese Industrial Standard (JIS) valves. The decision was taken to satisfy the demand for immediate repair requirements for the ever-increasing amount of ships built in the Far East that now operate in and around UK waters.
Fast forward to the present day this 'forward thinking' investment has paid dividends. The initial JIS stock profile has increased and has allowed LK Valves & Controls to satisfy the demand for these valves in the UK.
Today the company has diversified into other markets and currently represents market leading manufacturers with brands such as LK, Meson, Wouter Witzel, Winel, Orbinox, Socla, El-O-Matic, Damcos, CNJ, Pekos, Starline and many more. The company now operates from its purpose built 5000 ft² modern premises in Liverpool which allows the space and capacity to stock and distribute off-the-shelf valves for same day dispatch. All with the added insurance of back-up stocks held at its principal supplier's mainland European facilities.
LK Valves & Controls has built a reputation for having highly professional, knowledgeable and dedicated staff with a 'can do' attitude, delivering quality products on time. The firm continues to grow year on year achieving record sales in the last financial year. Alan Wareing comments; 'We are always looking to maintain and improve our current position, increase our stock holding, maintain a high level of customer satisfaction and effectively represent our principal suppliers in the UK.'.
For more information, ex-stock and short lead time supply, please contact one of LK Valves & Controls experienced team.